close
Seville Aquarium + 48hr Hop-On Hop-Off Seville
warning
The services included with the 48-hour Seville Hop-On Hop-Off Bus are: Walking tour Plaza de España, walking tour Santa Cruz quarter, Seville Aquarium, Casa de las Ciencias, Pabellón de la Navegación, Hospital de la Caridad, discount at the Bullfighting Museum, free Pepsi at Hard Rock Café Sevilla and 15% discount at Aire Ancient Baths. Plaza España and Magellan walking tours and other services are not available until further notice. Sorry for the inconvenience.
schedule add
from
10:00
to
20:00
Highlights
Unlimited access to the panoramic route with our 48-hour ticket
Hop-on Hop-off system to discover the city along our route and 14 bus stops
Audio commentary in 16 languages to learn about the history and culture of the destination
4 walking tours
Ticket included to the Seville Aquarium
Flexible 12-month ticket
Main Stops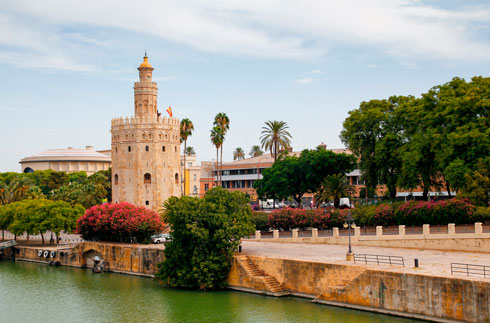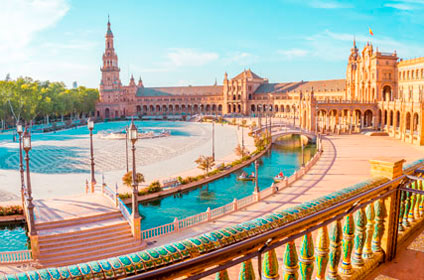 2
Plaza de España
Red Route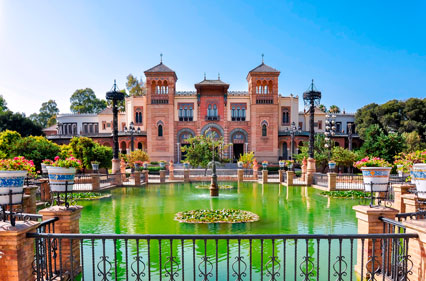 4
Plaza de América
Red Route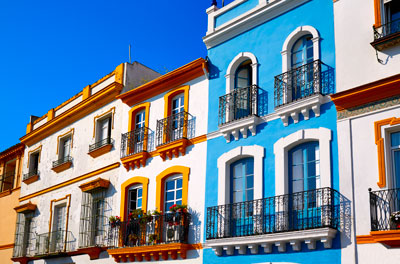 6
Triana: San Jacinto
Red Route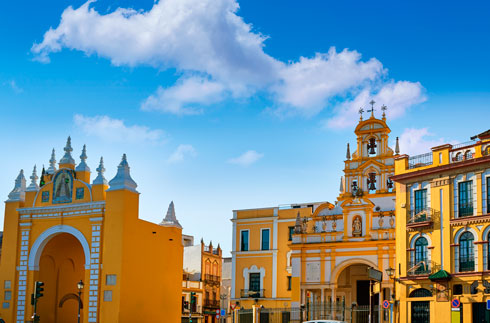 Included
48hr hop-on hop-off bus tour
4 walking tours
Free entry: Flamenco Dance Museum, Iglesia del Salvador and much more
Discounts: Plaza de Toros, AIRE Ancient Baths and much more
Entrance to the Aquarium
Description
Everything is included with the Premium ticket! Enjoy the Hop-On Hop-Off Bus ticket for 48 hours. In addition to the free activities included in the Seville Experience pack, the Premium ticket has even more benefits. Make your trip unique! An additional walking tour is included. Discover the Triana neighborhood with our local guides and learn more about its history. This place is considered the birthplace of flamenco. It's a must-see!

With the Experience Premium package you will have a great benefit: the entrance to the Seville Aquarium. Hop off at stop 3 of the tour and discover the wonders of the marine world. In the Aquarium you can discover a wide range of marine species from all over the world, such as the great bull shark. In addition, the Aquarium explains the journey of Magellan in the first circumnavigation of the Earth.

If you travel with kids, you can visit Isla Mágica at stop 9 It's a theme and water park, ideal for summer days.

Show your ticket and visit the Museo de Baile Flamenco (The Flamenco Dance Museum), essential to know more about this art. Find it nearby to bus stop 13. You can hire a bike for 30 minutes for free and ride around the city at Bike Center Seville (next to bus stop 2). If you are a football fan, you can also join the Betis Tour Experience with your Premium ticket. Experience Seville with City Sightseeing's red bus!
Before you Go
Free entry
Seville Aquarium (Monday-Friday 10am-6pm. Saturday and Sunday 10am-7pm)
Museo del Baile Flamenco - Flamenco Dance Museum (Closed until further notice)
30-minute bike rental at Bike Center Sevilla (Opening hours: 9am to 9.30pm). Rental from 12pm-5pm (only adults)
Iglesia del Salvador (Closed until further notice)
Hospital de la Caridad (Monday-Friday 10am-2pm)
Iglesia Santa Ana (Closed until further notice)
Pabellón de la Navegación (Tuesday-Saturday 11am-8.30pm. Sunday 11am-3pm)
Casa de la Ciencia (Monday 10am-2pm. Tuesday-Sunday 10am-8pm)
Betis Tour Experience (Prior reservation is required) (Closed until further notice)
Discounts
30% discount in menu at Torre de los Perdigones (Closed until further notice)
50% discount at Museo de la Macarena (Closed until further notice)
20% discount in the Bullfighting Museum – Plaza de la Maestranza (Wednesday-Sunday 10am-4pm)
AIRE Ancient Baths Sevilla: 15% discount (please, ask schedules and treatments included)
Free Pepsi at Hard Rock Café Seville
Walking tours
Capacity per walking tour: 19 pax (max. 2 groups). Please arrive 15 minutes before the start of the activity.
Santa Cruz: at 10.30 am from stop 13
Magellan: at 1.30 pm from stop 1 (Suspended until further notice)
Plaza España: at 12.00 pm from stop 2
Triana: 1 Oct-31 May at 5.30pm from bus stop 1 | 1 June - 30 Sept at 7pm from stop 1 (Suspended until further notice)
Map
Cancellation Policy
Free cancellation up to 24 hours before the chosen travel date.