workspace_premium World's Leading Hop-On Hop-Off Company
local_activity Free Cancellation
calendar_month Flexible vouchers: Valid for 12 months
star star star star star_half 4.4/5 Verified Reviews
workspace_premium World's Leading Hop-On Hop-Off Company
local_activity Free Cancellation
calendar_month Flexible vouchers: Valid for 12 months
star star star star star_half 4.4/5 Verified Reviews




Seville Supreme Experience
warning
AIRE Ancient Baths Sevilla are closed from June 2nd to July 5th. We apologise for the inconvenience.
schedule add
from
10:00
to
22:00
Highlights
Hop-on Hop-off system to discover the city along our route and 14 bus stops
Unlimited access to the panoramic route with our 48-hour ticket
Audio commentary in 16 languages to learn about the history and culture of the destination
4 walking tours through the historic city centre
Exclusive tickets and discounts at major attractions
Flexible 12-month ticket
Main Stops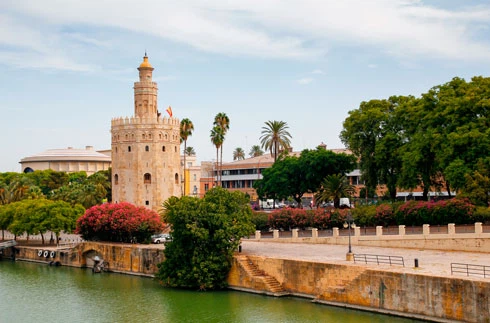 2
Plaza de España
Red Route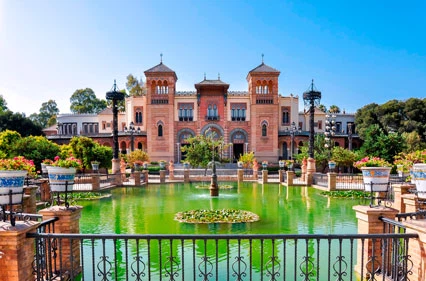 4
Plaza de América
Red Route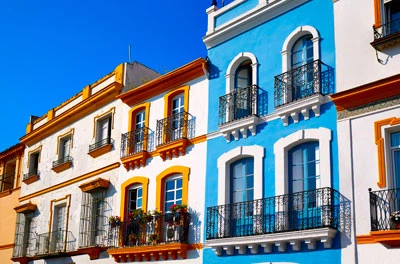 6
Triana: San Jacinto
Red Route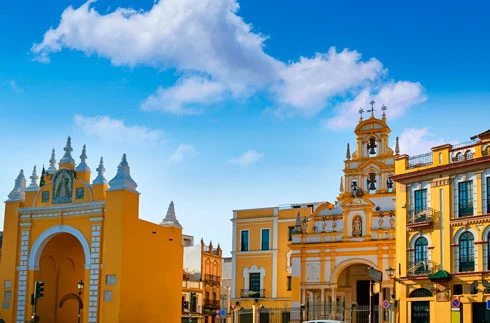 Included
48hr hop-on hop-off bus tour
4 walking tours: Santa Cruz, Plaza de España, Imperial and Triana
Free entry: Iglesia del Salvador, Pabellón de la Navegación and much more
Discounts: Hard Rock Cafe and much more
Bike rental & Football stadiums
Description
It's all included! Enjoy the Hop-on Hop-off Bus ticket for 48 hours and explore all that Seville has to offer. You'll find the main bus stop at the iconic Torre del Oro. Hop on our open-top buses and let the adventure begin!

One of the must-see stops on your tour is the Plaza de España, built for the Ibero-American Exposition of 1929. Learn more about its history and architecture on our walking tour with a local guide. Don't leave without taking a walk through María Luisa Park, a unique place in the city, full of beautiful corners that you won't forget.

With our red buses you can hop off in Triana neighborhood. Here you can taste some delicious tapas in any of the bars you'll find in the area. This place is very popular for its tradition of ceramics and is considered the birthplace of flamenco.

If you're travelling with kids, you can visit Isla Mágica, a theme and water park, ideal for summer days.

If you want to get even more out of your visit, join the guided walking tours included in your Supreme ticket. Discover the magic of the Santa Cruz neighbourhood, the history of the Plaza de España, the most emblematic buildings of the Seville of the Golden Age or the special atmosphere of the Triana neighbourhood. With our tours you will discover Seville in a fun and original way!

Show your ticket and enjoy many other advantages offered by City Sightseeing. You can visit attractions such as the Iglesia del Salvador, Hospital de la Caridad or the football stadiums of Sevilla and Betis. Make your visit more complete by taking advantage of some of the discounts or free drinks in different venues of the city. Experience Seville with City Sightseeing's red bus!
Before you Go
Free entry
Iglesia del Salvador (Monday to Saturday 10:00 – 17.30. Sunday 15:00 – 19:00.)
Hospital de la Caridad (Monday-Friday 10:00-14:00 and 15:00 to 18.30. Saturday and Sunday 14:00 to 18.30)
Iglesia Santa Ana (Monday-Thursday 10.30-13.30 and 16.30-19:00. Friday 11:00-13.30 and 16.30-19:00). Summer timetable: 1 June – 21 July: Monday - Friday (10:00 - 13:30). Closed in the afternoons. 1 – 31 August: Closed.
30-minute bike rental at Bike Center Sevilla (Opening hours: 09:00 to 21:00). Rental from 12:00-17:00 (only adults)
Betis Tour Experience (Reservation required)
SFC Stadium Tour- Opening times: Thursday: 17:00 to 21:00 (last entrance 19:30). Fridays, Saturdays and Sundays: 11:00 to 15:00 (last entrance 13:30) and 17:00 to 21:00 (last entrance 19:30).
Pabellón de la Navegación Opening Hours: Tuesday to Saturday: 10:00 - 19:30 , Sunday: 10:00 - 15:00 , Monday: closed
Pabellón de la Navegación Tower Opening Hours (on available days): Tuesday to Saturday from 10:30 to 13:00 and from 16:30 to 18:30., Sundays and days with Sunday opening hours from 10:30 to 14:00.
Discounts
20% discount at Plaza de Toros de la Real Maestranza (Museum)
50% discount at Macarena Museum (Monday to Saturday 09:00 -14:00 and 18:00 – 21.30.)
Free Coke at Hard Rock Café Seville (from 12:00 to 13:00)
La Canasta: tortilla + drink 2.95€
Mercado del Barranco: free drink
Ta'kool Mexican: Taco + drink 3.00€
10% discount at the Museum of Illusions
Walking tours
Limited places available. Please arrive 15 minutes before the start of the activity.
Santa Cruz: at 13.30 from stop 1
Plaza España: at 12.00 from stop 2
Sevilla Imperial: 17:30, from stop 1
Triana. 19:00, from stop 1
Map
Cancellation Policy
Free cancellation up to 24 hours before the chosen travel date.