close
warning
The services included with the 24-hour Seville Hop-On Hop-Off Bus are: Walking tour Plaza de España, walking tour Santa Cruz quarter, Casa de la Ciencía, Pabellón de la Navegación, Hospital de la Caridad, discount at Plaza de Toros, free Pepsi at Hard Rock Café Sevilla and a glass of cava at Aire Ancient Baths (when booking a treatment). Magallanes walking tour and other services are not available until further notice. Sorry for the inconvenience.
schedule add
from
10:00
to
20:00
Highlights
Hop-on Hop-off system to discover the city along our route and 14 bus stops
Unlimited access to the panoramic route with our 24-hour ticket
Audio commentary in 16 languages to learn about the history and culture of the destination
Walking tours included to explore the city
Flexible 12-month ticket
Main Stops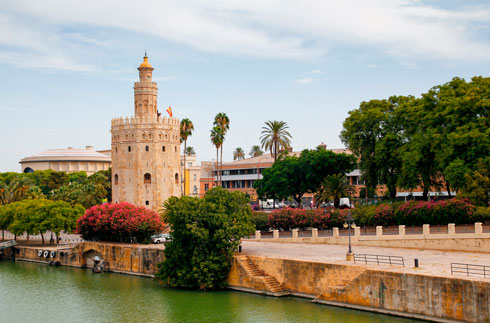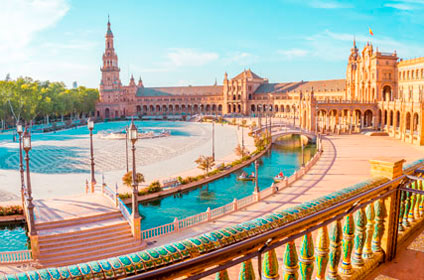 2
Plaza de España
Red Route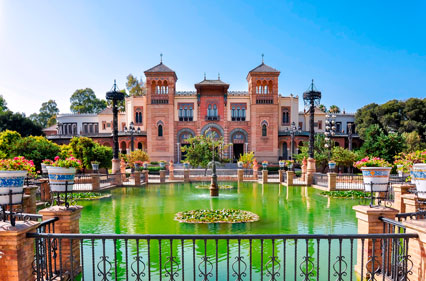 4
Plaza de América
Red Route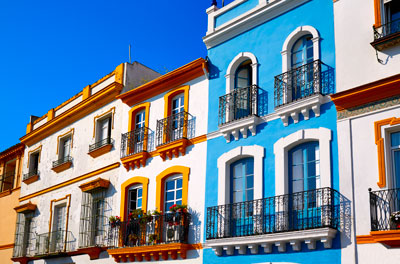 6
Triana: San Jacinto
Red Route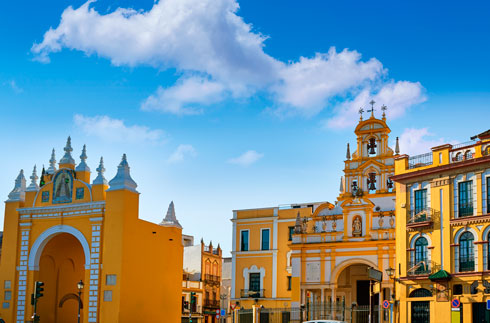 Included
24hr hop-on hop-off bus tour
3 walking tours: Santa Cruz, Plaza de España and Magellan
Free entry: Iglesia del Salvador, Casa de la Ciencia and much more
Discounts: Plaza de Toros, restaurants and much more
Description
With the Seville Experience, you won't have time to be bored! Move around on the 24-hour Hop-On-Hop-Off Bus and discover the highlights of Seville. Our tour stars at the emblematic Torre del Oro, next to the Guadalquivir River. Continue the route to stop 2, where you can visit Plaza de España and Parque de María Luisa. You can also discover this monument with our daily walking tour. At stop 3, you will find the Seville Aquarium, a space meant to entertain the whole family. There you will see different marine species, such as the great bull shark. The Plaza de América, within the Parque de María Luisa, is located at stop 4, ideal for strolling and admiring the architecture of its buildings.
Get to Triana neighborhood on board our bus. Hop off at stop 6 to get to the popular Calle San Jacinto and taste some traditional tapas. If you continue on board, we will take you to explore the area of the Universal Exposition. You have free entry to the Navigation Pavilion exhibition with your ticket. If you travel with kids, you can visit Isla Mágica at stop 9. It's a theme and water park, ideal for summer days.
The stop 13 is Plaza del Duque. Just 5 minutes walking you can find the curious Metropol Parasol building, better known as the Setas de Sevilla, due to its shape. You can also explore this part of downtown with one of our walking tours.
You cannot miss a visit to the traditional neighborhood of Santa Cruz, the old Jewish quarter. Discover all the curiosities of this place with our walking tour. Don't miss a thing with your City Sightseeing ticket!
Before you Go
Free entry
Iglesia del Salvador (Closed until further notice)
Hospital de la Caridad (Monday-Friday 10am-2pm)
Iglesia Santa Ana (Closed until further notice)
Pabellón de la Navegación (Tuesday-Saturday 11am-8.30pm. Sunday 11am-3pm)
Casa de la Ciencia (Monday 10am-2pm. Tuesday to Sunday 10am-8pm)
Discounts
30% discount in menu at Torre de los Perdigones (Closed until further notice)
20% discount in the Bullfighting Museum – Plaza de la Maestranza (Wednesday to Sunday 10am-4pm)
Discount at Betis Tour Experience (reservation required) (Closed until further notice)
Free Pepsi at Hard Rock Café Seville
AIRE Ancient Baths Sevilla: free glass of cava with a treatment. (selected times and treatments only).
Walking tours
Capacity per walking tour: 19 pax (max. 2 groups). Please arrive 15 minutes before the start of the activity.
Santa Cruz: at 10.30 am from stop 13
Plaza España: at 12.00 pm from stop 2
Magellan: at 1.30 pm from stop 1 (suspended until further notice)
Map
Cancellation Policy
Free cancellation up to 24 hours before the chosen travel date.