close
Premium Experience Malaga
warning
The boat tour is canceled until further notice. Sorry for the inconvenience.
schedule add
from
10:10
to
18:00
Highlights
Hop-on hop-off system to discover the city along our 2 routes and plenty of stops
Audio commentary in 8 languages to learn about the history and culture of the destination
Boat tour along Malaga Bay or flamenco show
Visit the main museums in the city
Entrance to Cuevas del Tesoro
Flexible 12-month ticket
Main Stops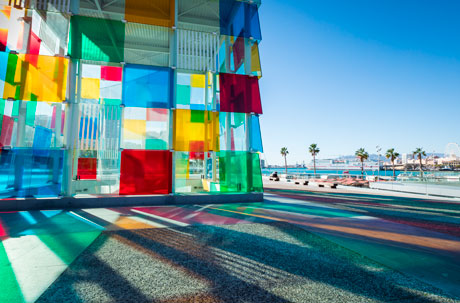 6
Centre Pompidou Málaga
Red Route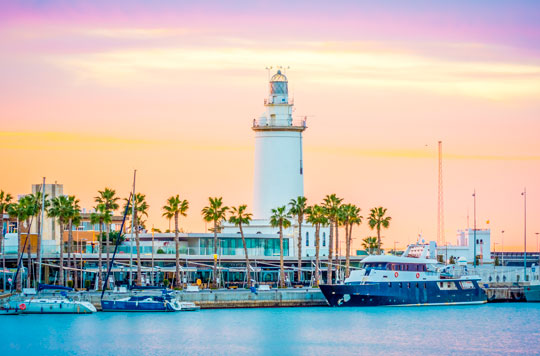 7
Paseo de la Farola
Red Route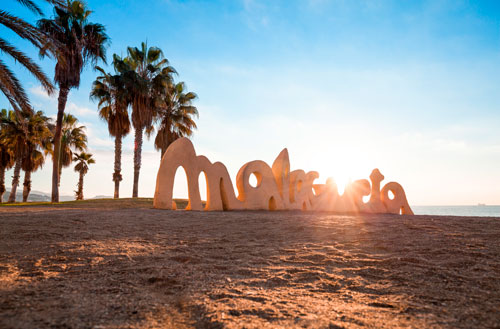 8
Playa de la Malagueta
Red Route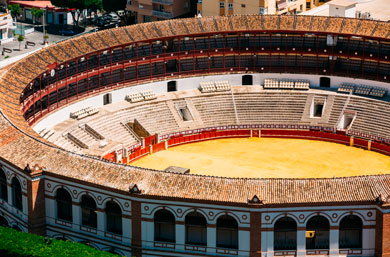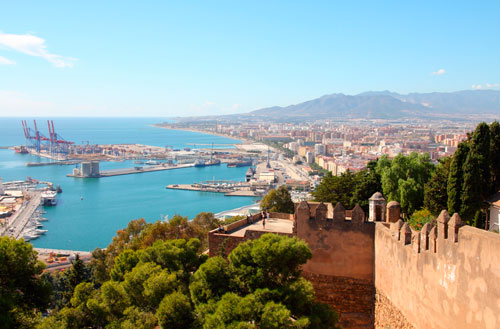 10
Castillo de Gibralfaro
Red Route
Included
24 or 48hr hop-on hop-off bus tour
Entrance to Interactive Museum of Music (MIMMA)
Boat tour and Flamenco show
Picasso Museum, Thyssen and more
Centre Pompidou, Russian Museum and more
Description
Malaga has a lot to offer you. Historical monuments, beach and great museums. You won't have time to get bored! The best way to organise your trip is offered by City Sightseeing. With your Malaga Experience Premium ticket, you have it all in one. You will have access to our double-decker buses for 24 or 48 hours. There are 14 stops along the route so you can hop on and off as many times as you like. Organise your stay and get around Malaga's main sites such as Gibralfaro Castle, Plaza de la Merced or Malaga Cathedral. There's so much to discover!

Hop off at stop 6 to enjoy two essential activities during your visit. Your ticket includes a boat trip on board the Red Ocean catamaran. You'll also have access to Centre Pompidou, one of the city's most important museums.

This is not the only museum you can discover with City Sightseeing. Enjoy the cultural offer of Malaga visiting Picasso Museum, the Russian Museum or the Thyssen Museum, among many others.

If you want to take a break on the way, hop off at stop 13 of the tour. You have included a drink in a establishment in the historic centre by showing your ticket. Don't miss the opportunity to walk along the famous Calle Larios or visit Malaga Cathedral.

But Malaga has much more to offer, not only in the city. With your City Sightseeing ticket, you will have included entrance to the Cuevas del Tesoro, located in Rincón de la Victoria. These underwater caves are unique in Europe and are a natural monument that's not to be missed.

Enjoy Malaga to the full with City Sightseeing.
Before you Go
Schedules:
Bus:

Red Route: Until further notice the red and blue routes are combined. The buses that go to the Museo Ruso do not stop at the Centro de Arte Contemporáneo (stop 2 on the red route).

Monday to Friday: 10.10am, 11am, 11.30am, 12.20pm, 12.50pm, 1.40pm, 2.10pm, 3.10pm, 4pm, 4.30pm, 5.20pm and 6pm. Departures from bus stop 1. All bus departures stop at Russian Museum, except bus at 10.10am

Weekends and public holidays: 10.10am, 10.40am, 11.10am, 11.40am, 12.10pm, 12.40pm, 12.55pm, 1.30pm, 2.15pm, 3.05pm, 3.50pm, 4.30pm, 5.15pm and 6pm. Departures from bus stop 1. Departures with stop at Russian Museum: 11.10am, 12.10pm, 1.30pm, 2.15pm, 3.05pm, 3.50pm, 4.30pm, 5.15pm and 6pm

Boat tour: CLOSED until further notice

Flamenco Jaleo show - January 4, 8, 15, 22 and 29 Please check with our staff for the time of the show. The show is at MIMMA (IInteractive Music Museum), Calle Beatas 15. The show lasts 1 hour (approx), please arrive 30 minutes in advanced

Picasso Birthplace Museum: everyday from 9.30am to 8pm

Thyssen Museum: Closed on Mondays. Open from Tuesday to Sunday from 10am to 8pm

Picasso Museum: open from 10 am to 6pm

MIMMA (Interactive Museum of Music: Closed on Monday. Open from Tuesday to Sunday from 10.30 am to 6.30pm

Automobile and Fashion Museum: open from 10am to 2.30pm and from 4pm to 7pm

Revello del Toro Museum: closed on Monday. Open from Tuesday to Saturday from 10am to 8pm. Sunday from 10am to 2pm

Russian Museum: closed on Monday. Open from 9.30am to 8pm

Centre Pompidou: closed on Tuesday. Open from 9.30am to 8pm

Drink at Cervecería Ámsterdam (Alcazabilla street) on presentation of ticket from 12pm to 3pm

Entrance to Cuevas del Tesoro at Rincón de la Victoria (includes return bus tickets to be picked up at the Tourist Office in Plaza Marina)
Map
Cancellation Policy
Your ticket can be cancelled within three months of its purchase date.
Supplied by
Estacion De Autobuses Paseo de Los Tilos S/N